Did You Feel It?
Geocache Update
A great way to spend time outdoors with your family and friends is by going
Geocaching.
Since 2007, nearly 4k people have visited CUSEC geocaches, which provide earthquake safety and mitigation information to site visitors.
As some visitors recently noted:



"

We really love caches that take us interesting places or teach us something new, so keep this up

.

"

"

Staff was very friendly. Even stood on the New Madrid fault line a few hundred feet from this cache

.

"
New Madrid Cool Facts
Think you are an expert on the New Madrid Seismic Zone? Here is a cool fact you may not have known:


In 1811, the population of what is now the central United States was very sparse. Still considered to be the western frontier, there were only about 5,700 people in the St. Louis area at the time. Most historical reports (journals, letters, and newspapers) describing the earthquake shaking and its effects were written by people who were located east of the Mississippi River. Today, about 11-12 million people live in the St. Louis-Memphis region.
Source: U.S. Geological Survey "20 Cool Facts about the New Madrid Seismic Zone".
Great ShakeOut Earthquake Drills to Occur Nationwide this Thursday at 10:20AM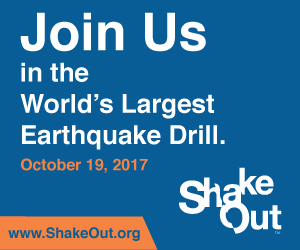 At 10:20 a.m. on October 20, 2016, millions of people will "
Drop, Cover, and Hold On
" in the
Great ShakeOut
, the world's largest earthquake drill*. Everyone is encouraged to participate and inform others about the drill.
Earthquakes can occur at any time and happen anywhere: at home, at work, at school, or even on vacation. ShakeOut is a chance to prepare yourself, your family, and your organization by practicing protective actions to take during earthquakes and other aspects of your emergency plans. Register today so that you will:

Additional instructions and resources can be found on the ShakeOut website, including:
If you're on social media, follow

@ShakeOut

for useful content and reminders on earthquake preparedness and be sure to use #ShakeOut when you post about your drill! You can also support ShakeOut on social media by participating in the following events:
A Facebook Live broadcast on October 18 at 11 a.m. PDT / 2 p.m. EDT -

watch

to learn about earthquake insurance, retrofitting, and building codes.
A Twitter chat on October 19 at 11 a.m. PDT / 2 p.m. EDT - use #ShakeOutChat to join; and
ShakeOut Thunderclap on October 20 at 7 a.m. PDT / 10:00 a.m. EDT. To join in, go to the

ShakeOut Thunderclap

and agree to post a one-time message on Facebook, Twitter, or Tumblr promoting the earthquake drill.
For more information on Great ShakeOut Earthquake drills and how to participate, visit
www.shakeout.org
.

* If you cannot hold your ShakeOut drill on 10/20 you can select another day during the registration process.
The CUSEC Board of Directors recently met in Huntsville, Alabama to begin looking at the next several years of earthquake planning initiatives. Included in the discussions were building community hazard mitigation planning and resiliency partnerships with the Department of Homeland Security (DHS) and FEMA and working with the National Guard in the CUSEC States and National Guard Bureau (NGB) to strengthen and support mutual aid following an earthquake or other large scale disaster. The meeting included top officials from the NGB, DHS, FEMA, and Guard and State Emergency Management Agencies in the CUSEC Member and Associate States.
CUSEC Board of Directors and FEMA Administrator Craig Fugate at the recent Board meeting in Huntsville, Alabama.
2016 has seen a number of changes in the CUSEC Board, several in a short period of time. In the spring, longstanding Board members Mr. Robert Latham (Mississippi) and Mr. David Maxwell (Arkansas) retired from their posts as State Directors of Emergency Management. They had more than 50 combined years experience in emergency management, many of which involved CUSEC. In addition, Mr. David Purkey (Tennessee) was appointed this summer to a new post as Commissioner of the Tennessee Department of Homeland Security. CUSEC would like to thank each of these Directors for their service to CUSEC and earthquake risk reduction, and we wish them well in the next chapters of their lives.
In Mississippi, Mr. Lee Smithson is the new director of the Mississippi Emergency Management Agency, following a career with the Army National Guard. Mr. A.J. Gary was appointed as the director of the Arkansas Department of Emergency Management (ADEM). Mr. Gary comes to ADEM with many years experience in public service and law enforcement. In Tennessee, Mr. Patrick Sheehan was named director of the Tennessee Emergency Management Agency (TEMA). Mr. Sheehan was previously with the Ohio Emergency Management Agency where he held a variety of leadership roles since 2004.
We look forward to working with each of the new Board members in the coming months and years as they transition into their new roles as State Directors.
QuakeSmart Workshops for Business coming to
Central & Eastern States
As part of the ShakeOut, and in partnership with the

Federal Emergency Management Agency

(FEMA) and the

Federal Alliance for Safe Homes

(FLASH), CUSEC promoting several earthquake risk-reduction seminars known as "QuakeSmart".

QuakeSmart

is a FEMA-sponsored program for businesses and organizations that offers streamlined business continuity planning and mitigation project plans with simple, step-by-step tools to help reduce risk and protect employees, customers, and the community where they do business.

The workshops will also include keynote presentations featuring experts and leaders who will address disaster resilient public policy from the federal, state, local, and private perspectives.

Seminars are planned in October and November in the following locations:

Tuesday, October 18, 2016, 9:00 a.m. - 3:30 p.m.

University of Memphis, River Room

Thursday, October 20, 2016, 9:00 a.m. - 3:30 p.m.

The American Institute of Architects

1735 New York Avenue Northwest

Thursday, November 10, 9:00 a.m. - 3:00 p.m.

College of Charleston, North Campus
3800 Paramount Drive
North Charleston, SC 29405

For more information on the QuakeSmart Preparedness Workshops, contact Barbara Harrison with the Federal Alliance for Safe Homes at barbara@flash.org.

CUSEC Around the Region

Spring and summer 2016 were busy for CUSEC, and we would like to thank the many individuals and organizations who supported our efforts to improve earthquake risk reduction in the central U.S. With primary funding from the Federal Emergency Management Agency (FEMA) under the National Earthquake Hazards Reduction Program (NEHRP), we would also like to thank the National Emergency Management Agency and Motorola Solutions Foundation for their financial commitment to helping us provide earthquake awareness, mitigation, and planning programs within our Member and Associate States. In recent months, CUSEC has continued to support several state, regional, and national efforts including:


National Earthquake Conference
- Also in May in Long Beach, more than 160 organizations and experts representing academia, emergency management, federal and state government, engineering and the private-sector gathered for the quadrennial
National Earthquake Conference (NEC)
. During the conference, participants examined the latest research and findings in building science and building product innovation, emergency management, geology, seismology, resiliency programs and policies, social science, public outreach initiatives, scientific insights, and new technologies to help create more disaster-resilient communities.
2016 Mississippi Partners in Preparedness Summit
- CUSEC led a general session briefing, two one-hour breakout sessions, and a display booth at the 2016 Mississippi Partners in Preparedness Summit on May 24-26 in Biloxi MS. This event was attended by more than 400 representatives from emergency management, healthcare, private sector and many other governmental and non-governmental organizations. The purpose of this meeting was to enable participants to gain valuable knowledge and best practices through networking opportunities with state and federal agencies as well as private-sector, faith-based, volunteer, and non-governmental organizations.
Ride The Fault Line
- In June, CUSEC representatives participated in a unique earthquake awareness event called
Ride The Fault Line (RTFL)
. RFTL is a seven-day bicycle tour that involves hundreds of avid cyclists who travel approximately 400 miles within the New Madrid Seismic Zone (NMSZ). Riding through Arkansas, Kentucky, Missouri and Tennessee, cyclists got the chance to pick up earthquake-related information as well as speak to representatives from CUSEC, the Center for Earthquake Research and Information, and the Arkansas Geological Survey about the history of earthquakes in the central U.S.
Illinois Public Health Preparedness Summit -
On June 22-23, 2016 CUSEC participated in the
Illinois Department of Public Health
(IDPH) and
Illinois Public Health Association
(IPHA) 2016 Integrated Public Health and Healthcare System Preparedness Summit. The summit was held in Schaumburg, Illinois with more than 650 public health and healthcare professionals attending. The focus of the summit was improving public health preparedness, response, and recovery to disasters in Illinois. CUSEC gave an earthquake hazard overview during the general session and led a breakout session on earthquake mitigation for hospitals and healthcare facilities.
NEMA MRP Project
- In July, CUSEC began working with states including Alabama, Arkansas, California, Massachusetts, Missouri, Oregon, Tennessee, and Washington, the
National Emergency Management Association
(NEMA),
Northeast States Emergency Consortium
(NESEC), and
Western States Seismic Policy Council
(WSSPC) to create "Mission Ready Packages" (MRPs) for both post-disaster safety assessment teams and geological survey support teams. While each of these resources will play a valuable role in post-earthquake response and recovery, they have not (historically) been integrated into the
Emergency Management Assistance Compact
(EMAC). EMAC allows for state-to-state mutual aid during a disaster and is administered by NEMA. When complete the NEMA MRP project will enable these resources to be more quickly deployed following an earthquake or other disaster. The project is expected to last through 2017, leading up to a regional exercise being led by the
Arkansas Dept. of Emergency Management.
Updated NEHRP Publications Now Available
The two-volume
2015 version of the NEHRP Recommended Seismic Provisions for New Buildings and Other Structures was recently been published by the Federal Emergency Management Agency (FEMA). The provisions,
which are developed for improving the current US seismic design standards and codes, are currently in the 9th edition after being first published in 1985. The 2015 NEHRP Provisions can be ordered from the FEMA Warehouse on DVD (FEMA P-1050 DVD) by calling 800-480-2520 or by visiting the FEMA publications online at
https://www.fema.gov/media-library/assets/documents/107646
CUSEC Spotlight: Mike Griffin, P.E.
As principal and partner in
CCS Group, Inc.
, in Chesterfield, MO, Mike Griffin has more than 30 years of experience in natural hazards--especially in cases of earthquake and high wind events, for structures, non-structural components, equipment and systems. Considered an expert in structural engineering, Griffin has performed earthquake risk assessments and subsequent structural strengthening designs to help lower the risk of property loss or damage to buildings and non-structural equipment and systems throughout the Midwest, West Coast and Caribbean. Mr. Griffin frequently provides training in natural hazards and risk assessments as a consultant with the
Applied Technology Council (ATC)
under the
Federal Emergency Management Agency's (FEMA)
National Earthquake Training and Assistance Program (NETAP)
. He also serves as a board member and trainer for the
Missouri SAVE Coalition
. Griffin has both a Bachelor of Science and Master degrees from the University of California, Irvine and is registered as a licensed professional engineer in seven states.
What led you to start your career in engineering, with an emphasis in earthquakes and risk assessments?
I excelled in math, physics and sciences in high school, so engineering was a natural when considering college. (Being) educated in California planted the earthquake seed in directing my career toward earthquake engineering first in design. Then as my career progressed I was involved in conducting post-earthquake damage investigations, studying the impact of earthquakes on building structures as well as on nonstructural components. This naturally migrated toward the evaluation of risk to client facilities, with subsequent strengthening or retrofit designs to mitigate the risk.



You have worked with many different people and organizations (CUSEC in particular). What lessons have you learned that have helped you to do your job better? I've had the opportunity early in my career to work with extremely intelligent people in the earthquake engineering field who now are industry leaders. These individuals and those I continue to meet and work with bring a new perspective to addressing earthquake risk. They may be other structural engineers, government or industry people. These relationships and exchange of ideas have greatly assisted me in performing my job better for clients.



How do you respond to people who don't take issues such as earthquake preparedness, building codes, or mitigation seriously? That is always challenging, trying to convince them the risk is real and some level of preparedness is required. I generally try to educate them that there are cost-effective opportunities or times to incorporate seismic reduction or mitigation measures that they should consider at a minimum.

How has working in engineering and seismic safety been rewarding for you? Schools are one of my real concerns for seismic safety here in Missouri. Thus, I'm involved with working with the Missouri Seismic Safety Commission on implementing their school seismic readiness initiative through offering FEMA P-154 evaluations to school districts at no cost to the district. This has been an annual program that seems to grow more and more each year with a greater list of volunteers willing to help. There are 16 school districts this year that are interested in taking advantage of this program. This is a first step, but a necessary one, which I'm hopeful will move districts toward mitigation where risk reduction measures will then become a reality.
CALENDAR & UPCOMING EVENTS
The Central U.S. Earthquake Consortium is a registered 501(c)(3) organization. Our primary mission is "the reduction of deaths, injuries, property damage and economic losses resulting from earthquakes in the Central United States". For more information about us, please visit www.cusec.org or contact us at (901) 544-3570.